1.I'm on a low-carb diet since my return from Mexico AKA EAT ALL THE THINGSICO, so today I ate 10 cookies.
As one does when one is on a low-carb diet.
Tomorrow I'll probably eat a half dozen donuts.
I'm really good at dieting.
2. God bless Munch at the P-G for finding that Roman Bistro in Forest Hills has an absolute over-the-top, ear shattering, Spongebob-esque website.
Just … shhh.
And don't get me started on the apostrophes and quotation marks.
3. Sid almost choked to death on a cheese stick.
Does he need mouth-to-mouth, do you know?
[chapstick]
4. Tim McGraw kissed a local woman's bald head and awwwww and LOOK AT HIS GUNS, YOU GUYS.
I don't think I've ever used this word on this blog in my, what, eight years of blogging, but DAY-UM.
5. Plum High School, of the famous Pens lipdubs, is ready to cut their TV Production Program. 
They have lost their DAY-UM minds.
6. This is the truthiest thing ever:
God bless you, Ian Richards of Sewickley for creating this.
God bless you.
7. The Republican nominee for Pittsburgh Mayor, Josh Wander, is a doomsday prepper with a PREPPER license plate and an appearance on Doomsday Preppers in which we get to see his whole family shooting guns and shit.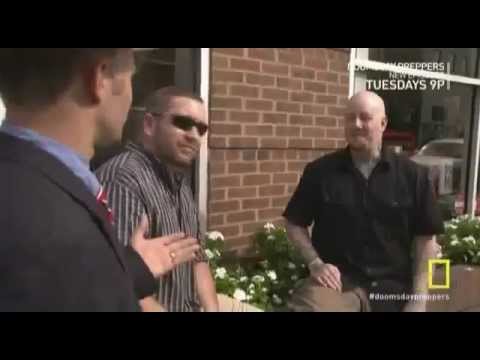 [headdesk]
Doomsday prepping is the new face tattoos.
8. WHY?
(h/t Charles)
9. I put this on my Twitter, Facebook and Instagram, but if you missed it, how my local Dairy Queen spells Iginla:
10. While we're talking Instagram, my favorite Friends episode was on this week, so I had to mark it:
PIVOT.
11. Can Burghers go too far in their love of our city?
Yes, they can. When they refuse to acknowledge its flaws.
A snippet of my latest Pittsburgh Magazine column:
We must not allow ourselves to become blind to Pittsburgh's flaws; that's no healthier than a parent ignoring the shortcomings of a child. Spend a decade coddling little Suzie, never addressing her faults, letting her get away with everything, becoming angry when anyone dares to criticize her — and before you know it, you're bailing 16-year-old "Suze" out of juvie for using her 4-inch stiletto to go Bad Girls Club on a classmate who insulted her ombre dye job.
My original text said "ombre dye job as 'Yinzery.'"
Go have a read, and then be sure to read the comments. Always a good time in the comments.
Enter sarcasm emoticon here.
12. And your awesome tweets as of late:
Just had to look up sore to make sure it meant achy, rather than fly. Dear god. What will Wednesday bring.

— Terra McBride (@spicymeatball) May 22, 2013
Teaching 7th grade today. Plan to skateboard in with a boombox on my shoulder.

— Jesse Landis-Eigsti (@jlandiseigsti) May 22, 2013
Even though he lost, I bet AJ Richardson is still going to drink all the 40s he bought for his victory party.

— Bill Crawford (@dveBillCrawford) May 22, 2013
Jack Wagner rips open a pack of Polident and sighs

— Jim Shireman (@shireman) May 22, 2013
Looks like I picked the wrong day to get face tats.

— Jonathan Wander (@JMWander) May 22, 2013
choosy moms choose to kick you in the taint if you dont pronounce it jif

— psamp (@psamp) May 21, 2013
Mailman caught me grilling shirtless. Face melted like a nazi looking at Ark of the Covenant. But on the plus side: no bills today!

— Mr. theMoon (@Sheepthemoon) May 21, 2013
This city figures out all the places you'd love to make a U-turn and deliberately puts up a "no U-turn" sign just to drive ya nuts!

— Pittsburgh Dad (@Pittsburgh_Dad) May 18, 2013
That's church.