Does the anti-liquor privatization lobby make you want to punch faces like it makes me want to punch faces?
Then you're in for a real treat because have you seen this commercial?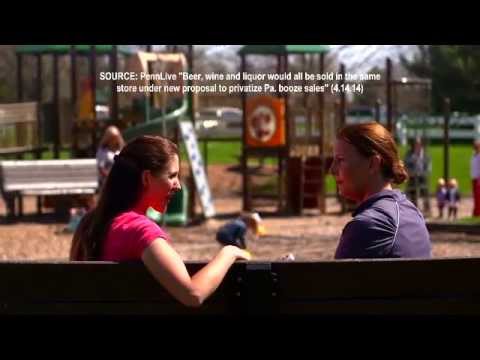 Head over here to see me destroy the "lying with statistics" that this commercial brazenly commits.
Snippet:
"So . . . *attempt at a confused look* . . .  politicians want booze sold in stores where kids and teens go . . .?"

Wait. Wait just a minute. Are we supposed to leave our kids and teens in our cars when we go into the state liquor stores?! Crap. I've been just walking in to buy wine with my kids in tow. I let them look at the wine bottles. I am so embarrassed by this incredible parenting fail. Next time I'll leave them in the car. Don't worry. I'll crack the window a bit because God forbid a child be in the presence of retail-ready alcohol containers. They could just grab one off the shelf and guzzle it down before you can say "Yo Gabba Gabba." 
It is so ridiculous and almost embarrassing for the union.
—————————————–
Remember when Huffington Post named Prantl's Burnt Almond Torte "the greatest cake America has ever made?"
Well my family put that to the test recently by pitting Prantl's versus Oakmont Bakery's burnt almond torte cake.
A snippet:
Partygoers crowded around the person taking the test. We watched in absolute silence. We waited breathlessly for each decision as if Maury Povich was about to read paternity results. "When it comes to this cake . . . OAKMONT IS YOUR CHOICE!" *wild cheering and incredulous weeping*

Soon, it was tied. Siblings divided. Marriages splintering before our very eyes. We were so desperate for a winner that we attempted to have a 9-month-old baby cast a vote, but she just inhaled both pieces of cake and burped. What good are you, baby? We're trying to do science here.

We were eyeing the dog as a possible voter, when we realized there was one cousin who hadn't yet taken the test. This was it. The tie-breaker. For truth. For science. For cake.

He tasted. Chewed. Swallowed. Tasted. Chewed. Swallowed. Silence.

JUST TELL US ALREADY, MAURY! 
Go see who won! It might surprise you. 
Happy Memorial Day!
I'm turning 40 next week!
[CRIES ALL THE BITTER TEARS!]