A doctor utters the word dialysis to an adult, and the trepidation sets in.
Hours upon hours sitting in a chair getting treatment for a life-threatening illness. Four hours or more at a time. Up to three days a week.
Oh, you have a life you need to live? That's too bad. This is your new life for a while.
Say the word dialysis to a child, and they don't know.
At first.
But soon, they'll know, just like cancer kids learn to say the name of their 24-letter cancer type.
Sit still in this chair for HOURS ON END. With a NEEDLE IN YOUR BODY.
Want to see what it's like? I found this video. Try not to cry at this bubbly little girl who very matter-of-factly tells you what it's like …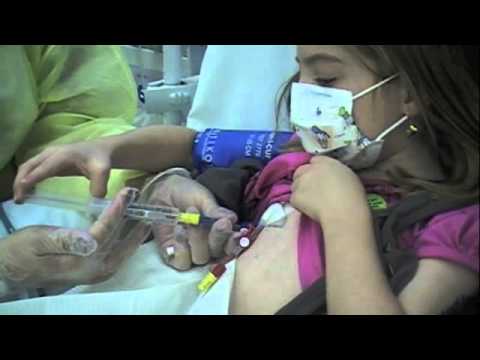 How would you like to tell your little child they have to experience that? For weeks, months, or maybe years?
I can't fathom it. I had trouble informing my son there was a chance he would need a scoliosis back brace (he didn't). I had trouble informing my little girl she might need to wear hearing aids one day (probably not).
Telling them they would undergo dialysis treatments? Nope. Then actually watching them go THROUGH IT? Nope nope nope.
Well, Burghers, this year with Make Room for Kids, we are going to show the dialysis patients at Children's Hospital of Pittsburgh some love. And like the billboard on Route 30 says, we are going to use love to turn them from patients, back into children.
We are going to give them lots of entertainment options to take their minds off of treatment while they are sitting in the dialysis chairs at CHP. We're going to give them gaming, movies, and more. They will not be bored or focusing on their treatment. They will be distracted, smiling, forgetting.
We're also going to be taking care of the nearby infusion unit, where, again, children must remain still while undergoing HOURS-LONG TREATMENTS. They need tablets, games, and more.
And we aren't going to stop there. We are going to do some needed maintenance on other units we've already outfitted. Replace some broken XBOXs. Give them new games and controllers. We'll be paying special attention to the epilepsy unit and we will be outfitting four additional patient rooms in the cancer unit.
Our goal is also to take care of those we've already taken care of. Keep their games and movies fresh.
It's ambitious.
And I need your help. Microsoft's regional employees, along with a corporate match, are doing their part to donate a good chunk of funds, but you and I? We have to take care of the other chunk.
A $10,000 chunk. Every penny will go directly to the Mario Lemieux Foundation and we'll use it to buy what we need for our April installation at the hospital.
But I'm going to reward you. You don't need to see a dorky picture of me; you've seen me at my worst.
But perhaps you might want to win …
— The Penguins Charity Gift bag I bought WITH MY OWN COLD HARD CASH. It should be arriving any day and I'll let you know all the good stuff I get in it. It will all be yours.
— I'm begging the Pirates for a gift bag as well. I will have news on that shortly.
— The grand prize. One lucky winner will get TWO TICKETS TO THE PIRATES HOME OPENER WUT. I'm serious. The Home Opener. SQUEEEEEE.
Do you have to donate to win? No. Because that would run afoul of lottery laws. You can simply comment on this post to win, but if you have one single extra dollar to donate in love to these sick children, please use the donate button up there on the left under the thermometer. All donors to the drive are automatically entered into the drawing for the three prizes, and their email addresses will be combined with those who simply comment below to win, into one big prize-eligible pool.
I will award the prizes the MOMENT we hit $10,000.
Please help me help these kids and come April, you're going to be so happy you did.
Group hug!