MR4K
Greetings to everyone except Rob Biertempfel! (I kid.)
Are you there, yinz? It's me, that girl who Wendy Bell probably has a voodoo doll of.
I ended a sentence with a preposition. Spoiler alert: you live.
Make Room for Kids was launched in 2010 with the assistance of the local Microsoft team and the Mario Lemieux Foundation and over $13,000 in donations from my readers. The goal: bring in-room gaming to the patients of Children's Hospital of Pittsburgh.
The Mario Lemieux Foundation adopted the program in 2011.
Since then, every February, I come to you, Pittsburgh, and ask you to help me raise the money we need to put more Xboxes and tech goodies in the patient rooms. We are bringing smiles and distractions to every inch of that hospital we can. What started with one 24-bed unit (transplant) has spread to almost 75% of the patient rooms.
Sick children, their siblings and their families are able to take a break from pain and worry, pop in some Minecraft or Angry Birds or Lego Star Wars or Madden. It's valuable. It's helpful to their emotional health. I know because I hear it over and over again from the hospital staff.
Do you know that last year in the Pediatric Intensive Care Unit, there was a teen who had been hospitalized with the flu for MONTHS. In the ICU! The virus had affected his extremities and the staff was having to encourage him to make use of his hands as much as possible. It wasn't always easy. He didn't often feel up to it. But then we put the Xbox in his room and they put a controller in his hands and his face lit up and he started moving his hands and fingers to game. It was like physical therapy!
So I REALLY need your help. Do you know we are now on our 14th unit? Do you know we'll surpass 300 Xboxes this year? Do you realize that gaming systems have a lifespan, and we have to replace a unit's Xboxes each year, IF WE CAN?
This year, it's time to get the transplant kids new machines, and that means Xbox Ones. That also means we have to replace all their 360 games because they won't play on the Ones without internet access and we don't have that ability yet.
Not only that, we want to do as we do each year, and provide all 13 units with all the new games and movies that have been released since last April.
AND THAT'S NOT ALL! We have a new unit! We will be installing Xboxes in every room of Pediatric and Thoracic Surgery. These kids have stays that range from one week to five months, depending on their illness and surgery. Children in this unit undergo appendix surgery, colorectal surgery, abdominal surgery, orthopedic surgery, etc.
These 23 children are sharing two gaming units that are wheeled to their room on a cart with a 19-inch TV. 
Oh, that won't do.
So we're looking at installing around 50 new Xbox Ones this spring.
Now, between funds already raised from generous partners such as The ScareHouse and Burgatory Bar as well as all the donations from the local Microsoft employees, we are in good shape, but we have a $5,000 budget gap. It's my job to bridge it like only a Pittsburgh bridge can.
In addition, I still need to fulfill all the gaming/movie needs (which will be done with an Amazon Wish List after I raise this $5,000).
Now, I already have a $1,000 donation coming in from Dave Duncan of Duncan Financial.
That means I need you to help me with $4,000.
PLEASE HELP ME.
Help these kids.
They just want to feel like kids again, and not patients. Gaming lets them do that.
Click the button up there under the thermometer (thanks, Woy!) to donate via PayPal or with your credit card directly to the Mario Lemieux Foundation. This program only began because of you and I am thankful for your generosity every single day. I know these kids are too.
Group hug!

The FAQs
1. What is Make Room for Kids?
Make Room for Kids began as a social media-driven fundraising effort designed to bring gaming to sick children at Children's Hospital of Pittsburgh, and is now an official extension of the Austin's Playroom Project at the Mario Lemieux Foundation. It was named by my butler Mike Woycheck's wife Meg, because she is super smart.  If I need to tell you who Mario Lemieux is, then I don't think we can be friends.
2.  How did Make Room for Kids begin?
You can read the very very early tadpole stages of Make Room for Kids in #2 of this Random n'at post.  Children's Miracle Network partnered with Microsoft to award a $10,000 game room to the three hospitals that earned the most votes in an online contest.  I encouraged my readers to vote because I really really really wanted our hospital to win.  However, the voting became so slow and tedious due to site issues that I eventually told readers, who were trying to vote their little hearts out, to relax and stop voting.  We'd find a way to give the kids a game room without the contest.
3.  Why gaming?
Short answer, Genre Baker.  Long answer, when I first made the decision to reveal my identity, my butler Mike and I began planning a charity reveal via a party at Diesel.  The goal was to raise $5,000 for a local charity, but I wasn't sure which charity I wanted to raise it for.  I considered the John Challis Courage for Life Foundation, but I wondered if there was a more direct way I could help sick kids.  Then the next day at church there was an announcement that a boy named Genre Baker, a church member, was fighting leukemia and in doing so was raising money because he wanted to be able to give the gift of gaming to other patients that didn't have a hand-held gaming system like he had to pass the hours in the hospital.
I ended up nixing the fundraiser idea because it got too big and I got scared because I'm little old me, and I'm a writer.  I should use my words to reveal myself.  And I did. But combining what I had learned about Genre Baker and gaming, with the contest to bring a gaming room to Children's Hospital, it felt like I found a way to use what little bit of notoriety I have to do some good for our local sick kids.
But short answer, Genre Baker.
4.  I like the MR4K logo.
That's not a question.
5.  Who designed the MR4K logo?
There we go.  The Make Room for Kids logo was designed by the beautiful and talented Rachel Sager of The Sum of David fame, who also designed my blog's banner.  She's super kickass [rocker kick].
6.  So, what happened to the room?
This post really sums it up, but what happened was the hospital approached us and said that basically they have enough common rooms; what they don't have is in-room gaming for the kids who can't always leave their rooms, particularly those kids who have long hospital stays ahead of them. So instead of one room, we made 24 rooms for the transplant kids by using the funds to outfit the floor with XBOXs in every room, ToughBook laptops, handheld gaming devices, movies, games and more! [rocker kick!]
You can read about the install day at Children's Hospital here or you can watch this video and shed a happy tear: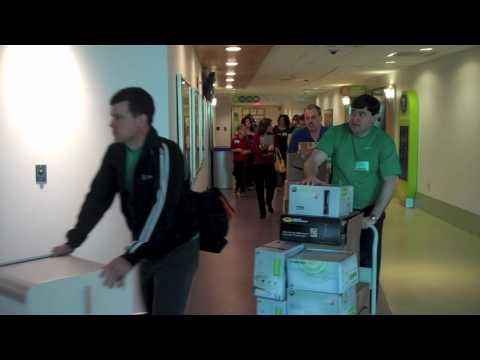 We then finished up the project by delivering $12,000 worth of laptops, gaming systems, games, iPads and more.
8.  So, how about those Microsoft guys?
YOU ARE NOT EVEN JOKING.  Those guys.  Facilitated by Microsoft employee Luke Sossi, the local Microsoft office of 30 employees donated enough money that we were able to outfit every room of the transplant ward and the frequent fliers ward with an XBOX and extra controllers without having to spend a cent of the money raised, allowing us to use that to purchase games, laptops, televisions, DVD players, and lots and lots of iPads. 2012 will bring us the 100th XBOX donated by Microsoft.
9. Why the Mario Lemieux Foundation?
Well, hello!?  It's Mario Freaking Lemieux, the President of Pittsburgh, and that fit nicely into my efforts to stalk him.  Also, we needed a nonprofit to handle the funds and reader Sooska informed me that Mario and Nathalie Lemieux's foundation has an Austin's Playroom Project initiative that seemed to fit well with what we were trying to do.  Executive Director Nancy Angus was immediately on board and Make Room for Kids and the Mario Lemieux Foundation became BFFs like salad and french fries. (It's a Pittsburgh thing.)
11.  What now?
Make Room for Kids belongs to the Mario Lemieux Foundation where it has grown and thrived beyond my wildest dreams. Donations are still vital to ensure the program continues to reach its goals each year to outfit more and more hospital rooms with gaming. We are entering our ninth year of operation, have installed over 250 Xboxes in Children's Hospital and we've got our eye on outfitting every room. We are 75% of the way there.
12.  Burghers are awesome people.
Also not a question.
13.  Aren't Burghers awesome people?
That's church.