As I mentioned previously, this past weekend was the memorial service for my great aunt Freda, who died at the age of 96 — sharp until the end.  And because I have you here, I'll mention that she was married to my great uncle for over 70 years before his death. I know. I once asked my uncle, who also died in his nineties, how he and my aunt stayed so sharp and healthy. He said, "Garlic." Do with that information what you will, people.
Anyway, in order to get to the memorial service, my sister Pens Fan and I drove together through West Mifflin and out past the Pittsburgh Institute of Aeronautics and eventually to the South Hills.
Uh, I think. Pretty sure that's where we ended up. I don't know.
It isn't the most familiar of territory for us as the last time we were anywhere near that place was maybe a trip to Century III Mall as teenagers.
As she drove, guided by me telling her where her iPhone GPS was telling us to go, this happened:
Me: "Okay, you're going to stay on this road for a few miles and it'll turn into another road and then it'll turn into another road and then you'll make a soft left onto Baptist."

Her: "Got it. Wait. Is this road Lebanon Church Road Pittsburgh?"

Me: [blink]

Her: [blink]

Us: [LOL!]
This immediately turned into an entire conversation during which we broke into commercial jingle at least three times.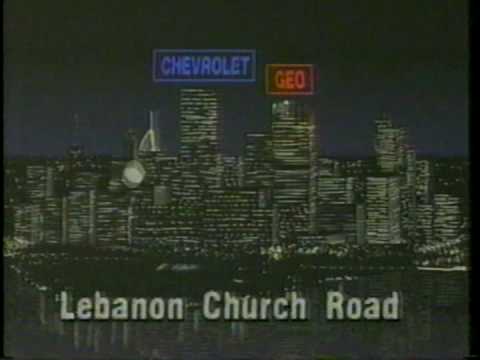 "Century Three! Chevrolet! Lebanon Church Road Pittsburgh!"
"Minutes from the mall!"
"You can't just say Lebanon Church Road … you have to say the Pittsburgh, too."
"Remember in the commercial how the little dot would jump on the words like karaoke?"
"Hey look! There's Century Three Chevrolet!"
"Lebanon Church Road!"
"Pittsburgh!"
"Minutes from the mall!"
I swear we were totally sober.
Then that very evening at my parents' house with the whole family there for my birthday dinner, I kid you not, a Century III Chevrolet commercial came on the TV, bouncing-ball accompanied jingle and all.
We were ecstatic. "Century Three … come on, EVERYBODY! … Chevrolet."
I swear we were still totally sober.
My points are that 1. Century III Chevrolet has an incredible, timeless jingle. 2. the 90-20 guys wish they were that catchy, 3. I apologize in advance for getting that jingle stuck in your head.
And finally, 4. I also apologize for the essence of garlic that will be oozing from my pores from this day forward.