1.  PodCamp is this weekend and there's still time to register if you want to go to the free un-conference! I'll be at the Meet n' Greet at AlphaLab on Friday night and then hopefully there for a portion of the day Saturday.
I'll be the curly-haired chick heckling Burgh Baby during her sessions.
2.  The ScareHouse has a new Pittsburgh Zombies area in the haunt in which they paid homage to the Primanti's wall by creating their own zombified version of it. A version that includes me and Burgh Baby and Troy Polamalu and the folks over at 96.1.
It's a huge honor and you can read about it and see it in this post I wrote over at Pittsburgh Magazine.
BRAINNNNZ.
Also, here's something I wonder, why did the artist give me head wrinkles while Michelle has skin as smooth as glass?
Hmm?!
I think I'll eat that artist's brainz.
3. I'm getting close to putting together the Burgh Tattoos post, so please, if you haven't already, send me pics of your Burghy tattoos! Email them to virginia [at] thatschurch.com.
I can't wait to share with you what I've been emailed so far!  Two words: Turner's Iced Tea.
I mean … THREE WORDS.
4. You remember the ultra-cool and witty Burgher Jessie Landis-Eigsti who writes awesome reviews of random stuff on his blog Jessie Reviews the World?
Jessie's latest post is a list and not so much a review. In it Jessie lists "Things I ate Today, Described Pretentiously."
It is a must-read post. I often wonder when I go to a fancy restaurant why everything has to be described so pretentiously. "Tonight we have Europe's finest cave aged cheddar cheese paired generously with dual portions of baked dough from the central core of the grain."
You mean grilled cheese on white bread?
For brunch, Jesse had the following:
Fortified crystals of Asian paddy rice, infused with rich Cote D'Ivoire cocoa and lively coconut oil, bathed in fresh Holstein milk
You will NEVER guess what that is.
5.  Pittsburgh is the flirtiest city in America!
How YOU doin'?
[wink]
[BEWBS]
What?
6. Two local airmen returned home to meet their babies for the first time. The video is so cute and moving, but I gotta tell you, in the first ten seconds I was kinda hoping Keith Jones would come to regret riding the airport escalator down backwards while talking to the camera.
VIRAL VIDEO.
7. I can't remember if I've ever shared this video with you.
This must be old age setting in.
Where are my pants?
[BEWBS]
What?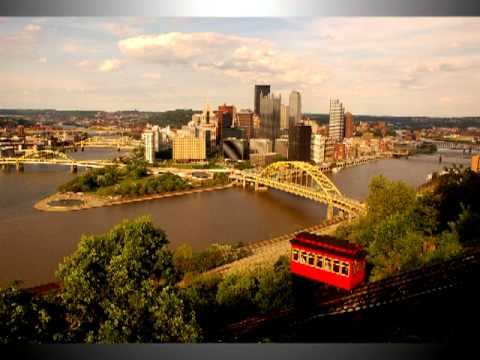 (h/t My Dad)
8. The vendor at PNC Park who I love has been identified as 23-year-old Matt Lane. The Trib even did a story on him back in 2009 and talked about his singing!
(Trib/Christopher Horner)
That's Church: Getting to the bottom of shit since 2005.
[awkward kung fu moves]